The Paint and Fleck Technique
If you've got flooring to update but don't have or don't want to spend the money, this technique might be an option for you. We've used it numerous times in both indoor and outdoor applications. It's simple and cheap and each time we do it, I am astounded by the difference it makes. It's called the Paint and Fleck Technique.
The Paint and Fleck Technique is a really simple concept. Ideal for garages, basements, and patio applications, it consists of painting the floor a particular color and then using very small flecks (they look like confetti) to be sprinkled on the paint. The flecks come in various colors and can be found at your local big box store, and specialty shops like All Garage Floors.com will offer even more colors.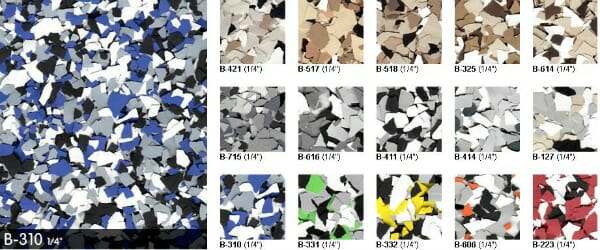 These are just a few of the options offered.
The great thing about the flecks is you are in complete control of how much you want to use. Use a lot of flecks for a more textured look or less for a smooth and more refined look.
Why not just paint? Why paint AND fleck you ask? Sure, painting the flooring of a space looks great, but it also brings about some problems. First, the smooth texture of paint will often highlight imperfections in the floor instead of hide them. Secondly, floors will obviously be walked on, so the expected wear and tear will produce unwanted blemishes on a floor that is only painted.
We used the Paint and Fleck Technique in a patio renovation and the pics below show you the evolution of the project.
Here is a patio space before paint is applied (the fence and travetine pavers were added before we painted and flecked).
Here is a shot after the paint is applied, but before flecking begins. We flecked on the second coat.
The final coat is where the flecking comes in. As mentioned, flecking the floor will give the surface a more textured look hiding imperfections (there were a lot!). It also disguised wear and tear extending the life of the look. People often preserve the look of the Paint and Fleck Technique by pouring an epoxy over it. This is a long and arduous process and in our experience isn't necessary (it may be in a garage where cars will be parked). With our project, in the backyard patio application, the paint and flecks held up for 5 1/2 years before we needed to reapply (which took less 90 minutes start to finish). We did not epoxy and, for us, the investment of time and money (about $40) was worth the final product. It's hard to see the flecks but they are there!
This before shot gives you a better sense of where we started. The tree is a good point of reference.
Here is the after!
Let us know where you might try this one!
Create. Innovate. Decorate!