Have you ever entered a space where everything felt "just right?" Where the feeling of the room exuded a certain kind of warmth and made you want to stay? Have you ever found yourself in a room saying, "I wish I had something like this in my own house?" You may not even realize it, but the spaces that have these qualities are undoubtedly using the 5 Principles of Design. When spaces elicit warm and positive feelings and seem to draw you in, you are experiencing the visual language of design at its best. Design is more than just seeing something pretty and placing it on a shelf or picking a paint color and lopping it up on the wall. If this were the case, everyone would have a beautiful space, sadly, we know this is not.
This is one of my favorite spaces designed by Jane Lockhart Interior Design. Stunning! The 5 Principles are all at play in the photo. Read on to find out more.
Flawless design is intentional. Rooms are created in layers. Every piece in the room has a purpose and a contribution to make and seeing all the pieces in context is crucial to the final product. We've had many clients not really be sure of a single piece on its own but seeing it incorporated into the finished product, they often end up saying that they couldn't imagine any other piece!
Like any form of art, there are elements upon which good design is based and these nuances take a space from simply being visually pleasing to an experiential masterpiece. Today we will share with you the 5 principles of design which serve as the foundation for constructing awe-inspiring spaces. Once you understand these design basics, your ability to make your own space more functional and beautiful will be not only attainable but meaningful!
This another gorgeous space designed by another favorite designer of mine, Nicole White. The inspiration for this room was a pinstriped suit! Inspiration truly is everywhere.
As we stated before, there are 5 fundamental principles that serve as the building blocks of design. These when these cornerstones work in concert, the result is an astounding, harmonious space! Here are the 5 principles and the definition of each:
Balance– Achieving a sense of equality in the space. Balance is needed for stability. This is most readily accomplished through symmetry. An example of balance in the photo below would be the sofas facing each other and the groups of two chairs across from the two ottomans. Even though the chairs and ottomans don't match and are different sizes, because of their configuration, balance is still achieved.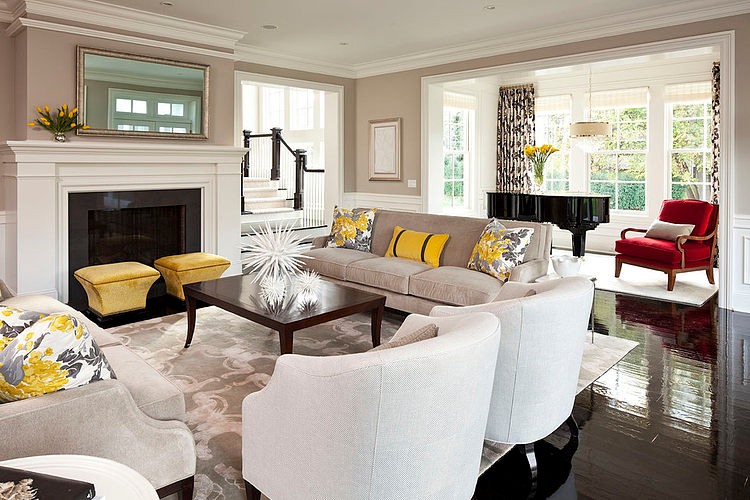 Designed by Martha O'Hara Interiors.
Rhythm– Seeing colors, textures, or forms repeated throughout a space. For example, there is an obvious and direct connection linking the pillows on the bed to the wall color and pillows in the window seat. A more subtle indication of rhythm is the pleats on the curtains connecting to the pleats in the roman shades in the windows. The repetitions/connections create rhythm. Picking up on these nuances with help develop your design sense!
Designed by Elizabeth Gordon Studio
Emphasis– Having a focal point in your space; the place where your eye goes to first. Focal points can be big or small. Some examples of focal points are fireplaces, a large piece of art, or even a colorful bouquet of flowers. Having at least one focal point in a room is crucial!
Scale– The size of the items in a room in relation to one another and/or the space. A poor example of scale would be a room with oversized furniture. The reason they often look cluttered and uninviting because there scale is disproportionate.
Here both sofas are much too large for the space, and the small size of the television and coffee table are not helping!
Harmony– The overall feeling and flow of a space. If the other four design principles are at play, then harmony will be the ultimate outcome! Harmonious, is what all spaces aim to be.
Designed by Trust the Vision Decor.
If you start to use these principles when looking at ideas and spaces, you will start to develop a whole new way begin creating a space you love!
Create. Innovate. Decorate!