Defining Your Design Style
What's Your Design Style?
There's an old saying, "He who fails to plan, plans to fail," In design no truer words were ever spoken. There are simply too many distractions and too many options so without a clear plan, you will inevitably end up with a lesser quality outcome. Now, having said that, we have also learned, that the first plan is the plan to get you to the next plan. Having a general blueprint for the direction you want to go is essential to completing what you want, but remaining flexible and open to change will ultimately be your key to success!
The first step in your plan should be identifying your design style. This in and of itself can be a daunting task because your aesthetic is just that; yours. Design choices are like a vast cornucopia, a melding of tastes coming together to meet your needs. There are literally hundreds of combinations of design styles available but these 5 over-arching design styles represent a large core and offer subsets that may help you identify where you fall.
*One tip to keep in mind is one's aesthetic is largely identifiable by furniture. There are absolutely other factors at play but identifying the type of furniture you like is one practical way to begin gathering a sense of your own unique design style.
Traditional Design Style is characterized by formality, symmetry, order, in some case ornate carvings or patterns. Tones are generally mid tone and fabrics lend themselves to floral patterns, plaids, solids, and/or stripes. Subsets of traditional style include Country (French and English), Shabby Chic, Victorian, and Arts and Crafts.
Contemporary Design Style employs a feel of cool sleekness with streamlined hard materials. Color tones and generally neutral with an occasional punch of color to liven up the space. Subsets of contemporary design include Art Deco, elements of Transitional, and elements of Mid-Century.
Transitional (sometimes referred to as New Traditional) Design style is the love child of Traditional and Contemporary design. Characteristics of this style connect the symmetry and formality of traditional designs with bolder punches of color and pattern and a middle ground of streamlined hard angles, and the ornate feel of traditional design. Room and Board, Pottery Barn, Crate and Barrel, Zin Home all have strong pieces of transitional design aesthetic in their arsenals.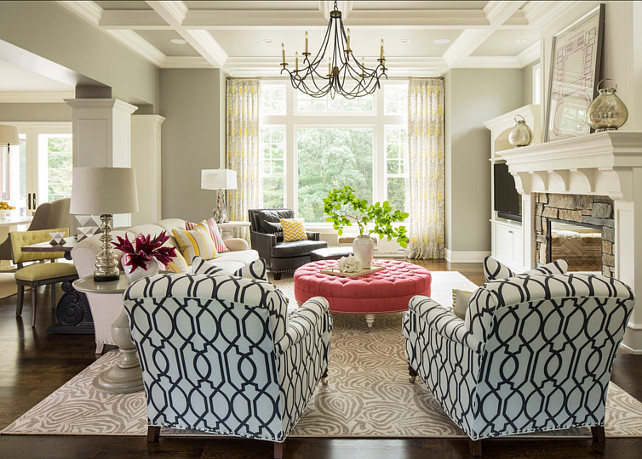 Eclectic Design Style is a mish-mash of sorts and borrows many characteristics from other design styles. This carefree style has an air of "anything goes" and seems to elicit strong feeling from both its lovers and opponents alike. This style is known to be heavy in different textures and patterns being used in the same space. Eclectic design uses elements of all the design styles mentioned and then some.
Modern Design Style will always be known for its clean lines hard angles and minimal decor. There are usually hard, polished surfaces, geometric shapes, characterized by light neutral color tones and smooth textures. Modern design often exudes the feel of sophistication associated with luxury urban dwellings. It is most closely linked with contemporary design with the major distinction being in the hard angles and geometrically shaped pieces. Subsets of modern design include Minimalist, Mid-Century, and some Asian design aesthetics.
This small abbreviated list is here to assist you in getting on the road to creating a space that you love and that expresses the best of who you are!
Which style most closely describes you?
Create. Innovate. Decorate!